スポンサードリンク


How to choose a shoes in business
Shoes are also one of important things in the clothes and sets of business scenes.

This time I would like to talk about how to choose leather shoes in the business scene and the contents related to them.

We are assuming general business situations to the last.
It depends on the workplace and environment.

I will talk about leather shoes in men's business.

The way to choose a suit in the business scene is described here.

The way to put a perfume in the business scene is described here.

I would like to talk about watches on another occasion.
Fine, because the story gets longer. . .
The role of leather shoes in business scene
Inappropriate leather shoes are very prominent.
If you show casually carefully and carefully, you will have a better impression.
Leather shoes are a little troublesome to manage.
If you do it well, it will lead to confidence in yourself.
I think people who are successful in business are people who can "afford", "confidence" and "service".
I have not done much yet ,,,
Let's take a step to lead to confidence.
How to choose leather shoes
I would like to talk about how to choose leather shoes in business.
I will explain with the flow below.
· Types of leather shoes
· Color of leather shoes
· Size of leather shoes
Types of leather shoes
Leather shoes in business will change depending on the shape depending on whether it is formal oriented or casual oriented.
The kind of leather shoes is fine, but I will talk about the following part.
· Shoe adjustment type
· Types of toes
· Types of shoe soles
· Shoe adjustment type
It will be the type of parts to adjust to fold on your feet when you wear shoes.
There are shoelace type (inner wing · outer wing), monk type, others (such as loafers).
shoelace type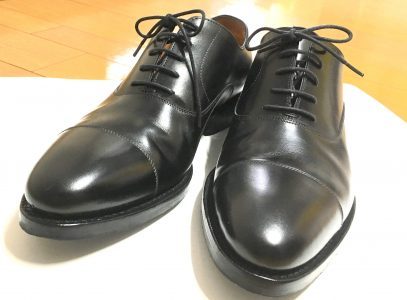 It is the most formal in the kind of shoes.
Let's use it in business
Shoelace type is divided into two types by the shape of the part to pass the shoelace.
It becomes inner wing and outer wing.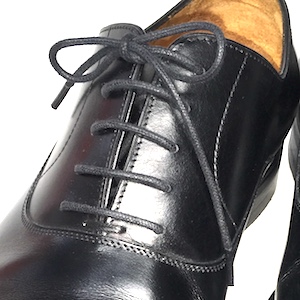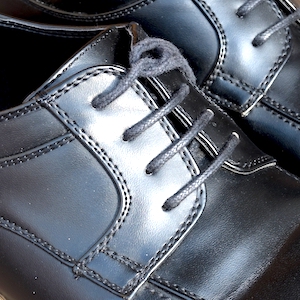 左が内羽根、右が外羽根
"Inner wing":
The part to pass the string is sewn from the inside of the shoes.
It has a formal impression.
"Outer wing":
The part that passes strings is sewn from the outside of the shoes.
It has a casual impression from the inner feathers.
Both leather shoes with shoelaces can be used in business.
Adjustment when tightening the shoelace is slightly wider for the outer wing.
monk type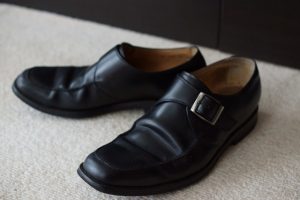 Those that substitute cords with metal and belt become monk type.
Although it can be used depending on business situations, it will become casual, so basically avoid it in business situations.
others (such as loafers)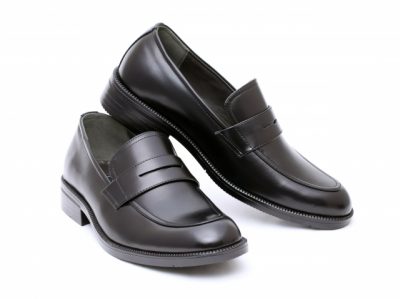 You can wear off easily with no strings.
Since it becomes casual here, let's avoid it in the business scene.
· Types of toes
Next there are some kinds of toes.
There are straight tip, plain toes, wing tip and so on.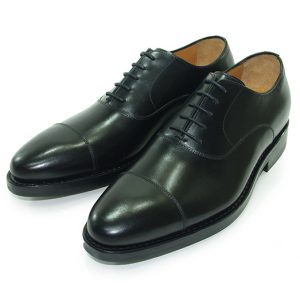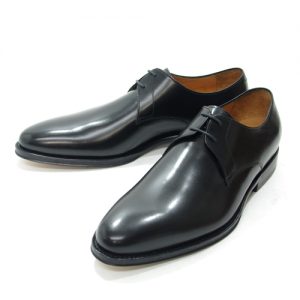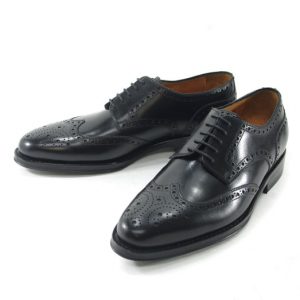 出典:www.jalansriwijaya.com
Straight tip from the left, plain toes, wing tip
Straight tip
The straight tip is a type that the joint is in a horizontal line at the toe portion.
It is the most formal type of toe.
plain toes
It will be what is not given anything to the tip of the toes.
It becomes formal next to the straight tip.
wing tip
It is a type that the tip of the toe is like W.
Mostly, it is decorated.
In the type of toe section, straight tip is the most formal.
Then it becomes a plain toe.
There are various types of leather shoes, depending on the type it is difficult to handle with business so let's purchase the shoelace type first.
"Inner wing type of straight tip" is the most formal.
If you buy this type, there is no mistake in any business scene first.
· Types of shoe soles
Depending on the type of shoe sole, it will not be affected by the business scene, but because functionality is different, I will explain it.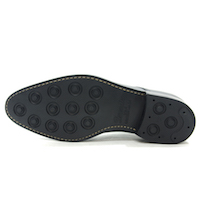 出典:www.jalansriwijaya.com
Leather is leather sole, right is rubber sole.
"Leather sole":
Because all leather, comfortable to wear gradually to familiarize your feet.
"Rubber sole":
Because the bottom is rubber, it is highly durable against the rubbing of the road surface when walking and it is strong on wet surfaces.
Also, the hard rubber absorbs the uneven road surface, and the convex-concave surface is comfortable to walk
The following is my subjectivity, but I summarized it as a feature.
| | Leather sole | Rubber sole |
| --- | --- | --- |
| durability | ○ | ◎ |
| fit | ◎ | ○ |
| Bumpy road | △ | ◎ |
| Cleat | △ | ◎ |
| appearance | ◎ | ○ |
As a recommended place of use,
Leather sole: Many work in the room
Rubber sole: Many outdoor activities
"Inner wing type of straight tip" is the most formal.
As an example of what I explained, there are also leather shoes like this one. Please try it as a reference.
[ジャランスリウァヤ] ストレートチップ 98317 BLACK CALF LEA BLACK UK 7(25.5cm)
Shoe color
The color of shoes in business is "black", "brown" only.
Other colors are not used in business.
The color of shoes in business is "black", "brown"
Shoe size
Because it is shoes, I feel pain when walking if size does not fit.
Also, how to walk also goes wrong.
I will talk about the attention point of size.
・From one size small size, confirm
Let's look at the size from the one size small size of the shoes you are always wearing.
When leather shoes are wearing, they become familiar with the feet.
Even if you select perfect fit (feeling tightness) leather will extend and fit your feet.
For that reason, please wear it as a standard based on the one size small shoes that you normally wear.
・Tie the shoes together with the heel
It is the same as wearing ordinary shoes.
When you put on your shoes, ties the string with the heel.
Let 's confirm other parts with this.
When I have a gap between my heel and my shoes, my shoes and legs will hurt while I walk.
・Heel does not float


Let's walk if you put on your shoes.
Walking, does the heel not float? Is it too hard? please make sure.
If the heel part does not fit, it will cause a shoe scuff.
・The little finger's base will fit
Please check whether the base of the little finger of the foot fits.
This part becomes the standard of the width of shoes.
In the case of ready-made goods, it depends on the manufacturer and the series of shoes.
Please change the size when feeling uncomfortable feeling and pain when walking.
・Fits the instep of the foot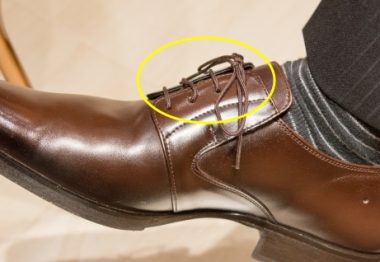 Let's touch shoes on the instep of the foot.
It becomes the part which becomes the support of the shoes when the feet are floating.
Let's change if you can not adjust the shoelace part.
This part also differs depending on the manufacturer.
If the gap is too large, you will get tired and strange wrinkles and your shoes and legs will hurt.
After all we have to walk and do not know.
Leather shoes will stretch leather and fit your feet.
If you wear it yourself will change to your original pair span>.
Please find a pair of yourself.
I will wear shoes and check each part
Shoe care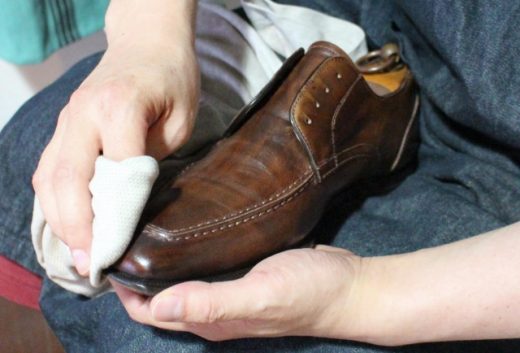 Let's maintain as a management of shoes.
Depending on the method of shoe polishing, it shines more than new.
I can not polish as beautifully as a shoe polish craftsman, and I can not say the technical thing of polishing, but I will explain the method of care.
Although it is not difficult, it will hurt if you do not care and it will look poor.
Let's try it as much as possible.
Method of care
1.To remove dirt
I brush and drop it like mud.
Do not rinse directly with water.
Leather hurts.
Let's remove it carefully with a firmly squeezed cloth.
In addition, it is better if you use a cleaner against dirt.
2.Immerse moisturizing cream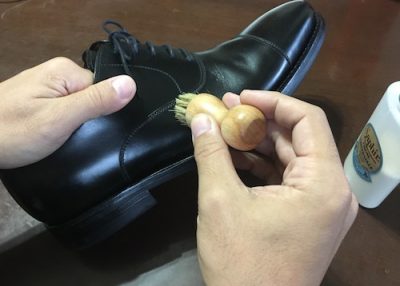 When color baldness stands out, I use colored moisturizing crease.
First, brushing the moisturizing cream and stretch it thinly and let it penetrate the leather.
Next I will polish with a non-fluffy cloth.
Drop extra moisturizing cream.
At this time, polish firmly so as not to scrape strongly.
Small dirt will emerge and take off.
To moisturize further, gloss comes out.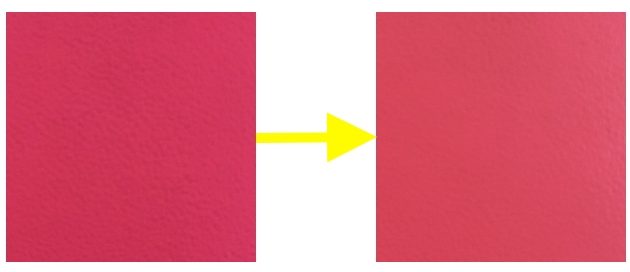 For the sake of clarity I tried to compare with colored leather products.
It is hard to understand, but fine dirt like the original color is also falling.
3.Finishing wax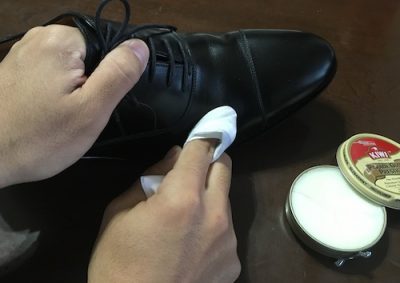 When the moisturizing cream becomes familiar well and the hand becomes sticky, extend the finishing wax.
Let's use a soft cloth with fine mesh as possible at this time.
Stretch thin with a weak force.
Let it extend to the whole, if the wax seems to dry out let's extend again.
After stretching and drying, gloss will come out if you brush it gently.
I do not use dirty cleaners much, I firmly apply moisturizing cream.
Also, when polishing to remove dirt is used to cut old old underwear.
To stretch and polish the wax, I use old old underwear or old woman's old pantyhose.
(It is useful as a disposable)
Take care of your shoes and make them last longer
Do you need a water repellent spray?
There is absolutely no necessity as long as you maintain regularly regularly.
Wax is useful for firm water repellency and dirt prevention.
However, I think that it is good to use a water repellent spray when you want to extend the interval of care or when you want to save time and labor.
It is easy for water repellent and dirt prevention easily.
Let's spray at the end when using the timing to use.
There are silicon type and fluorine type, but let's use fluorine type.
If it is a silicon type it will not escape to moisture and will steam and lead to damage to leather shoes.
It is unnecessary if you keep it. If you use fluorine type
What did you think.
It is easy, but it is how to choose shoes in business.